Partner With Us to Help Homeless Familes!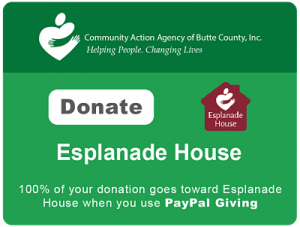 With the ever-changing landscape of federal and state grant priorities, CAA Esplanade House is committed to finding local community partners to ensure that the programs and services can continue uninterrupted. We have a proven track record of success and are committed to remaining a sober program where families are challenged to become self-sustaining. We have staffing needs on a regular basis, such as additional case workers to ensure each family gets the attention they need to develop a plan for their future and be successful. Your financial donations allow us to provide staffing for the programs and classes, as well as fund activities for the children, such as celebrating holidays and hosting after-school programs.
Our activities also require volunteer participation. From picking up leaves to wearing a Santa suit at the Family Christmas Dinner, volunteers and community members are an integral part of what we do. Most volunteers come away from their experience deeply moved by the gratitude of our families. Many volunteers come back year after year. According to volunteer Susie Costello, CAA Esplanade House has a way of "getting in your heart."
Interested in Volunteering? Click below

Donation of Clothes and Household Goods
Many of our families come to us with little more than the clothes on their backs. We have a donations room where community members may drop off gently used clothing, housewares and bedding—to name just a few things. CAA Esplanade House is unable to accept mattresses or couches. Our families can access the donations room anytime it is open. Donations are open Monday, Tuesday, Thursday and Friday from 8am to 5pm.
Click here to see our current wish list
---
The Esplanade House can be reached at (530) 712-2600, Option 4
"Never doubt that a small group of thoughtful, committed citizens can change the world; indeed, it's the only thing that ever does."
-Margaret Mead