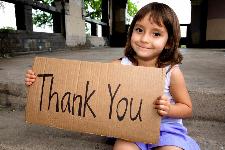 The Esplanade House provides transitional housing and intensive supportive services for homeless families with children. The main goal of the Esplanade House program is to work with homeless families to accomplish life changes that will help them to become as healthy, confident, and self-sufficient as possible. Our program also places a special emphasis on helping the children recover from the trauma of their family's homelessness and to be given the supports they need to succeed in school, address developmental progress, and gain social and emotional competencies necessary for their future.
Most of the adults served are either in recovery for drug and alcohol addictions, or have been diagnosed with some form of mental illness (in some cases both).  Often these conditions, combined with their homelessness, have resulted in their children being detained in foster care by County Children's Services.  The Esplanade House program enables them to be reunited with their children.  The program provides an on-site licensed drug and alcohol counseling program, case management (for both adults and children), as well as groups and classes which address topics ranging from parenting to financial literacy to healthy relationships.  Off-site services are also accessed and part of each households' service plan, including behavioral health counseling, drug court, and any other appropriate community services which enhance the adult's recovery and ability to become self-sufficient.
The program provides a two phase approach to serving families.
Phase I is designed to provide the family with time to stabilize their physical and emotional lives.  A variety of on-site classes and support groups are emphasized in this phase, including healthy relationships, co-dependency, parenting and addiction recovery.  When they enter the program, they are required to begin making monthly deposits in their own trust fund which we maintain for them.  The purpose of the trust fund is provide a savings account that can ultimately be used for housing costs in the community when they complete the program.  Clients generally remain in Phase I for 12-18 months.
In Phase II, clients are expected to be enrolled in school and/or employed, making plans for their program exit and re-entry into the community.  In Phase 2, they pay rent and their own utility bills, while continuing to save money in their trust fund.  Clients also generally remain in Phase 2 for 12-18 months.
When accepted into the program, families are given everything they need to start over:  a furnished apartment, food, clothes, supplies, and supportive staff, including a Case Manager, a Drug and Alcohol Counselor and a Child Advocate.  They are surrounded by other families who all have the same challenge and rules to follow, including curfews and housekeeping.  On any given day, the program typically houses 70 adults and 100 children.
To apply for this program, download the PDF linked below.  Please read carefully and note that it is 18 pages in length.