Help Us Feed Hungry Families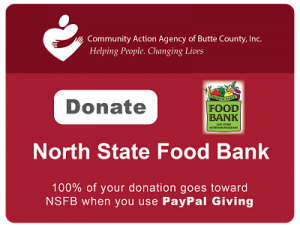 Every month the North State Food Bank serves an average of 45,000 hungry residents in the six-county region. We partner with great volunteers and food providers to make this happen, but your financial donations also make a huge impact. Our annual goal is $150,000 of community support. Together we can take care of our community and make sure nobody goes hungry.
"The Chico State Hungry Wildcat Food Pantry is proud to be a member of the North State Food Bank. The whole North State Food Bank staff is dedicated to our success and through their ongoing support we have successfully distributed food to thousands of our students who experience food insecurity."

--Joe Picard, Chico State Basic Needs Project, Hungry Wildcat Food Pantry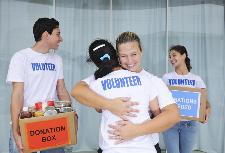 The strength of the Food Bank is in its many volunteers! We have a ton of ways you can help be part of the solution including:
Warehouse work; from light sorting and shelving of product to heavy lifting
Organizing and sorting through boxes of food
Our seasonal produce giveaways – calendar and locations can be found on our website.
We will accommodate our volunteers comfort level. Call us at 530-712-2600, Option 3 to see how you can help. Or click below to download our Volunteer Request Form.

Partner with the North State Food Bank to hold a food drive at your business or event. We can help you with organization and promotion and it's a great way for a local business to get involved in the community and give back! Call us at 530-712-2600, Option 3 to discuss the possibilities.
Food and Equipment Donation
If you would like to donate edible food, please call 530-712-2600, Option 3
We are also in need of warehouse equipment including pallet jacks, forklift, refrigerators, freezers, and special fans to keep the warehouse cooler during the summer. Please contact us if you or your company is interested in helping out with those needs.