What People are Saying...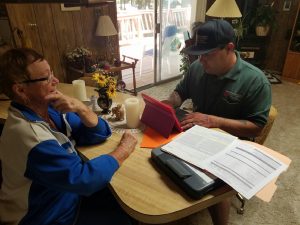 We love transforming people's homes into warmer (or cooler!) places to live! It is part of our mission to ensure that the most vulnerable in our population have the best opportunity to stay safe in extreme temperatures, and also be able to afford their energy bills!
We have hundreds of success stories over the years. Here are just a few things that participants have said about the program:
January 2018

To Everyone at Community Action Agency,

This has been a very heartfelt joy to find an organization like this to help us seniors who now are on a fixed income. Thank you so much for assistance in getting my new HVAC system as well as wood to decrease my utility bills. 

Most sincerely,

Janet N. 

July 2017

Dear Community Action Agency,

His is a letter of thank you for everything you did no improve the energy use in my home. It's good for my pocketbook and for the environment. Roy came to my house because my home number had been changed. He explained the program to me and signed me up. He also checked my fridge and installed handheld shower heads, which are much safe for me because I have a handicap. I really like the feature where the water turns off when it reaches 98 degrees. He checked my water heater for carbon monoxide and gas leaks. Thank you, Roy.

On May 18, Jeff and Tom came and did so many things to improve my place. The ceiling fixtures are nice looking and the light bulbs are amazing – I didn't realize how dark my house was. They checked my heating ducts for leaks (mine were pretty good). They did a beautiful job of weather-stripping my doors (you could see light around the edges before). Even my attic access was weather-stripped! They also capped a gas line in the garage and caulked around some bathroom pipes. I was so impressed and so thankful for everything they did.

I could never have done all those things myself – physically or monetarily. Your whole group deserves an award for your good works. I cannot thank you enough.

Carole

March 2017 

Dear Trandan and CAA,

I wanted to share with you and Feather River Aire the amounts of my last two PG&E bills. While temperatures were a little warmer through the end of February and the first of March than they were during the months of November and December, I do not think that entirely accounted for a $37+ decrease in my utility bill. Without a doubt the credit goes to Butte County Community Action Agency for their help in repairing my furnace and installing a new thermostat. I am so appreciative of the bonus I am receiving because of your intervention;  it  is allowing  me to  better  stretch  my dollars. 

Thanks again for your help, your good work does count!

Marion W.